Sports and nature
Hiking, golf, horse riding, boat trips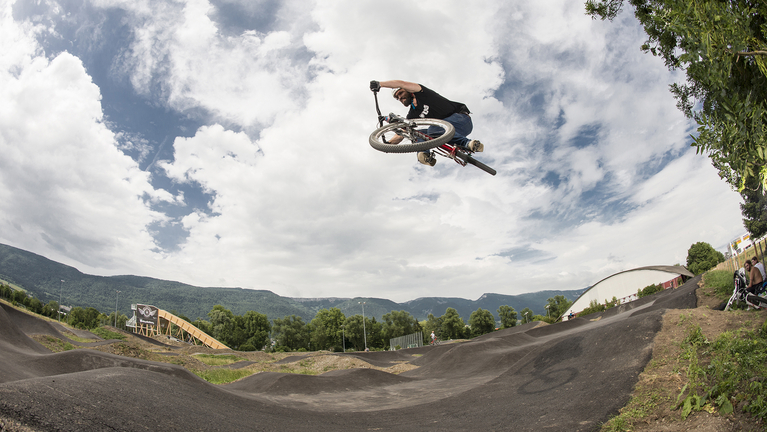 Hiking, Climbing, and Biking
A brochure with hiking tips and a map is available at the Canton of Solothurn Tourime Association. There is a climbing center at Klus Balstal, and at the Oberbuchsiten/Egerkingen quarry, and in many parts you will find outdoor training facilities known as a "Vita Parcours". The main Swiss bike routes (Aare River and Midlands-Jura-Aare River and Baroque Rountrips) all lead through the Canton of Solothurn. Moutain biking is also very popular here.  
Velodrome
The new Velodrome Suisse in Grenchen is a meeting place. It is the home of track specialists, mountain bikers, street cyclists, BMX riders, triathletes and other sports enthusiasts
The Velodrome Suisse track measures 250 metres, which means it conforms to Olympic standards. International championships can be held there, and training programmes can be set up there for the original distance.
Swimming
Practice your swimming at the many out- and indoor swimming pools. The swimming pool in Grenchen is famous for its beautiful site, very child friendly and offers many attractions for all kinds of swimmers. 
Golf
The Wilyhof Golf Club is a 18 hole course (guests allowed with handicap 30) opened in 1995 and is the longest course in Switzerland. T here are public practice ranges in Aetingen, Hauenstein, Lostorf, and Trimbach.
Flying
Parasailing, hang-gliding, parachuting, flying … Everything is possible in the Canton of Solothurn. The airport Grenchen offers  lessons or sighseeing flights. For more information.
www.airport-grenchen.ch
Horseback Riding
Horseback riding is very popular in Switzerland, especially dressage and show jumping, but also pleasure riding (English style and Western or ranch riding).
Willi Melliger, one of Switzerland's top show jumping champions, is at home in the Canton of Solothurn. The CSI show jumping event in Neuendorf is legendary. 
Boat trips
Be your own captain of an inflatable boat on the Aare River or enjoy guided excursions to the three lake region departing from Solothurn, Altreu or Grenchen.
Rowing
Rowing is also very popular, there are clubs in Solothurn and Olten.