Dual education system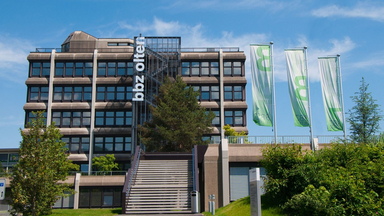 Switzerland's dual education system is unique and enjoys high status in this country. Around two-thirds of all young people complete an apprenticeship in one of 230 trades and professions. They build a solid career foundation by spending between two and four years attending classes and going to work in tandem. After their apprenticeship, many go on to do advanced professional qualifications and train for management or specialist roles. This has enormous benefits for the Swiss economy.
In summer 2014 around 55 percent of school leavers in Canton Solothurn embarked on two-year basic professional training leading to a Federal Certificate of Vocational Education and Training, or three- or four-year basic professional training leading to a Federal Diploma of Vocational Education and Training. On 31 December 2014, 6,331 young people were in basic professional training. More than 4,000 establishments in Canton Solothurn offer apprenticeships.
Vocational colleges
Vocational colleges (Berufsfachschulen) give apprentices an education to accompany their on-the-job experience. It's in two parts: trade-specific theory, which places the emphasis on technical expertise; and general studies designed to help apprentices develop personally, hone their social skills, and broaden their education. Apprentices are required to attend a vocational college.
The canton runs one vocational training center (Berufsbildungszentrum or BBZ) in Olten and one in Solothurn-Grenchen. Apprentices in agriculture attend the Wallierhof training center.