Business Location
Canton Solothurn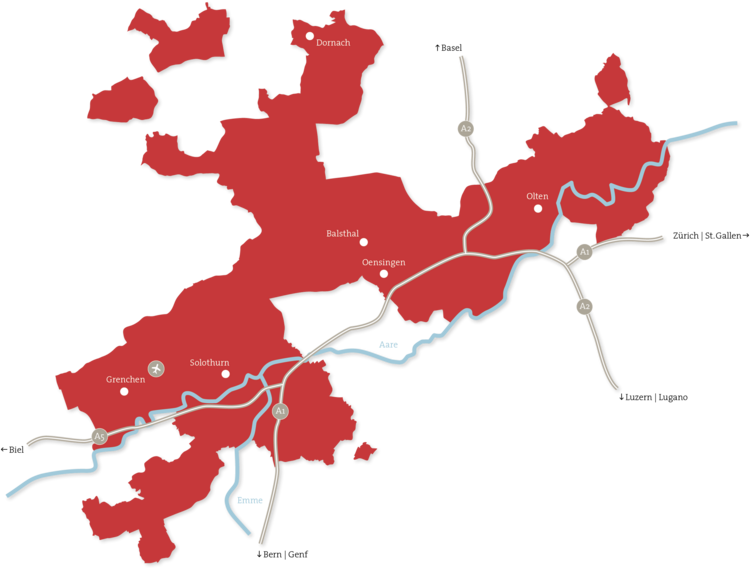 Place
Solothurn
Total area
791 km2
Administrative units
5
Municipalities
109
Population
285'901 (31.12.2022)
Foreign Population
25.0%
Number of employed people
142'239
Number of businesses
17'216 (31.12.2022)
Per capita gross domestic product
65'237 CHF(2020)
Economic sectors
2.8% agriculture
25% industry
72.2% service
Economic centers
Solothurn, Olten, Grenchen,
Breitenbach
Key industries

Medtech, precision industry,
watchmaking, logistics

Well-known brands
Breitling, Mondaine, Porsche Design
JURA, Schaerer, Studer Cables, Storen Schenker
DePuy Synthes, Mathys Medical, Stryker, Ypsomed
Alpiq, BKW, Biogen, Bell, SBB
Coop, Migros Verteilbetriebe, Murpf
Swiss quality reigns in the Canton of Solothurn: Innovation, precision, and reliability. We look forward to presenting you the advantages of our business location and providing you with pertinent information.
A hotspot of medical technology
Inside Switzerland the Canton of Solothurn is a hotspot of the medical technology. As a pioneer in the field the Canton Solothurn has easy access to the know-how in fine-mechanics and handwork of the Swiss watch industry.